As the stunning fall colours appear here in Ontario and the leaves begin to fall, the number of chores around the house increase in preparation for winter.
If you're looking at completing some projects around the house, you may be considering renting a roll-off waste bin to reduce the amount of clean up afterwards. We're going to take a look at some scenarios where a roll-off waste bin would benefit your project.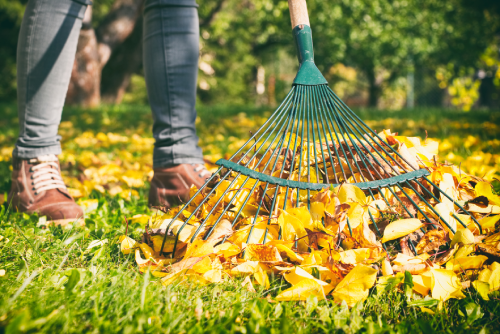 Landscaping Project
In the fall, a lot of people get outside to prep their garden for winter. At the end of September into October, it's important to remove any dead plants or debris from your garden, rake and compost any fallen leaves and trim any tall grass away from trees to reduce the chances of small rodents entering your home. As one can imagine, this creates a lot of clean up, especially if you have a sizable backyard.
Alternatively, some look to complete some landscaping projects when the weather is cooler. Renting a roll-off waste bin provides you with the means to dispose of any debris you accumulate over the course of your landscaping project.
You're Renovating Your Home
Whether your home requires repairs or an upgrade, a renovation gives your home a fresh, new look. Fall is an excellent time to undergo renovations with the cooler weather. However, taking on any big home improvement project can get messy and it's much easier to have a place to put all your garbage. If you are taking on the renovations yourself, or if you've undertaken a home project before, you know it can be stressful. Having a roll-off waste bin is one way to ensure that your project goes smoothly!
De-cluttering Your Home
Fall is the time of change! People will often sell their homes or, if parents become empty nesters with their kids going away to college or university, begin eliminating some of the clutter in their home to save on space.
If you're getting prepared for a move or to put your home on the market, you will want to ensure your home is spotless to attract potential buyers. Also, owning a clutter-free space is good for you. Over the years, there have been multiple studies that suggest that a cluttered space is harmful for your mental and even your physical health. Clutter has been said to reduce your focus, increase your stress and can contribute to unhealthy eating habits, leading to weight gain. De-cluttering can be a difficult process for some people, especially if they attribute emotional attachment to some of the items that they are throwing away.
When you're deciding what items to throw away, it's best to separate them into piles into what should be thrown away, what can be donated/sold and what you are keeping. Having a roll-off waste bin present to easily throw out unusable items is a means of quickly sorting through the clutter.
Georgian Waste is a family owned and operated company, offering waste services and roll-off waste bins to those in Simcoe County for years. To find out more about our services, give us a call at 705.424.0082 or send us a message online.